Top Financial Certification Courses with the best ROI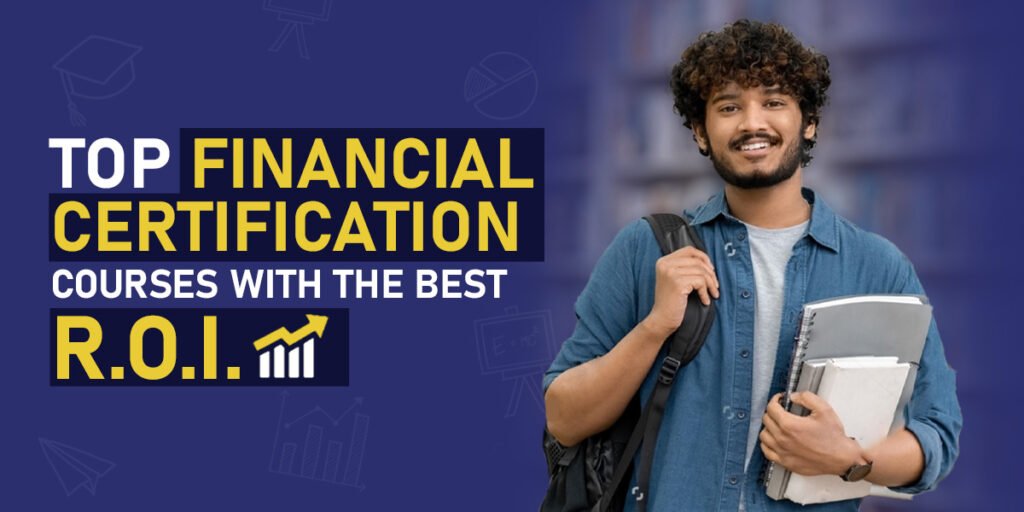 Times are gone when you have to search for certification courses in finance with top placements and the best pay. Candidates who want to move forward and plan their career in the field of finance have infinite options to choose from, be it from local certification courses which are powerful in the consigned area to the certification courses that are valued globally.
As per research reports, most of the students or professionals who are planning their goals in finance and related areas are looking forward to doing some sort of certification course like CMA, CPA, EA, CFA, etc. Doing a certification course will help you in multiple ways prove your excellence in the topics like financial planning, auditing, financial analysis, tax, and so on to climb the management ladder in your current company.
Out of numerous options available in finance certifications, choosing the best course for you will be burdensome considering the cost of these certifications. Nonetheless, most of the training institutes out there will give fake promises like placements in Big4 and MNCs, but it is a must to get our research done before we jump into any courses.
If you are looking forward to doing a financial certification and are confused about which one to opt for, this blog will help you pick the right finance certification courses which will give you the best return on investment.
Certified Public Accountant:
CPA is one of the most heard and valued financial certifications around the world. The role of a CPA is mainly centered around business. CPAs can always find job opportunities in a wide range of sectors and companies. CPAs with increasing experience usually work their way up to top executive positions like Chief Executive Officer (CEO) and Chief Finance Officer (CFO).
Cost of Certified Public Accountant Certification:
CPA certification is on the little expensive side in comparison with other financial certifications. So bear in mind that you will be spending more while taking your CPA certification.
The exam registration fee for CPA varies based on the country and state you live in. Here are a few more details about the CPA exam fee structure.
Candidates have to pay an initial exam registration fee. This fee might range between USD50 to USD200. The price difference is based on the state you want to get the license.
In the case of the exam fee, it is going to cost you approximately USD 1000 for four parts. This payment has to be done while scheduling your exam. Those who write the exam outside the US need to pay an extra cost of $1500 towards international exam fees.
Apart from the AICPA cost there will be an assessment fee of $250 for evaluation of your qualifications.
Total Price of CPA: USD 3000 (Approx)
Job Prospects of CPA:
When it comes to salary prospects and job opportunities for a Certified Public Accountant, The average gross salary for an entry level CPA ranges around USD70,000 annually in US, which makes it one of the best financial certifications with a great beginner compensation.
Job opportunities for a CPA are available in a wide range of fields like tax, auditing, and many more. CPA professionals with experience draw about USD114,000 per year. On the margin, CPA is one of a kind certification that will give the best return on investment.
Enrolled Agent:
An enrolled agent is mainly a tax professional whose job role will be mainly focused on managing and maintaining the tax matters of individual clients as well as business firms.
An Enrolled Agent will have in-depth knowledge of the topics of payrolls, estate gifts, returns, inheritance, non-profits, Income, retirement taxes, and levies.
This ordinal privilege is only reserved for Certified Public Accountants (CPA), Attorneys, and to various positions of former IRS employees, and also to candidates who cleared their Special Enrolment Examination (SEE) exam.
Once a candidate clears their EA exam, Internal Revenue Service (IRS) will treat them as a tax specialist. Their day-to-day job role mainly includes the representation of their clients be it large business firms or individual clients in matters of tax appeals, tax audits, and tax collections.
The most familiar career paths that EA professionals tend toward being
Public Accountant
Firm Tax Accountant
Law Firm Staff
Accounts Controller
Tax Analyst
Department of Revenue Staff
What is the Enrolled Agent Exam fee?
In order to get the Enrolled Agent Certification, candidates must attempt an exam called Special Enrolment Examination (SEE).
The SEE exam mainly consists of 3 parts:
Part 1 – Individuals
Part 2 – Businesses
Part 3 – Representation, Practice, and Procedure
The exam Registration fee for each part of the SEE exam will be around USD203, which makes it around USD609 for all three parts combined.
This will be the price for just exam registration. Completing the Enrolled Agent course on your own can cost you around USD700, but if you opt for training with an institute, this price will increase further more based on the training package cost.
Jobs for Enrolled Agent:
There are many jobs out there for an Enrolled Agent with a federal license. The Bureau of Labor Statistics reports an increase in demand for Enrolled Agents in the coming years to increase by 5%.
Coming to gross salaries drawn by Enrolled Agents, the amount will vary based on various factors like Company, sector, no of years of experience, type of experience, and employment location. skills and knowledge. Enrolled Agent pay is based on their entry levels, there is a total of three levels, Entry level, Mid Level, and senior level.
The average salary of an Enrolled Agent as of 2022- 2023 is around:
Entry Level Enrolled Agent Salary: Candidates who recently got their federal license till their 5th year will come under entry-level. Entry-level Enrolled Agents get about USD40,000- USD50,000 annually based on their skills.
Mid-Level Enrolled Agent Salary: Enrolled Agents with an experience of five to ten years will be at Mid level drawing about USD50,000 annually.
Senior Level Enrolled Agent Salaries: A Enrolled Agent will be at the senior level if the candidate has an experience between 10 to 20 years. Employees at the senior level draw about USD60,000 annually.
Certified Financial Analyst:
Certified Financial Analyst is one globally recognized and valued financial certification course. The certification is provided by the CFA institute.
CFA is mainly centered around investment analysis and portfolio management. CFA is a three-part course and all the questions in the exam circle around quantitative methods, economics, financial reporting and analysis, corporate finance, portfolio management, equity, fixed income, derivatives, alternative investments, and ethical and professional standards.
CFA Certification Course Fee:
The cost of the CFA exam fee varies based on the dates you do the registration. The more advance your exam registration is done, the lesser your fee will be.
Advance registration costs you USD700 while the standard registration will cost you USD1000.
In order to register for the Level, I exam, an additional USD450 will be charged. Level II and Level III do not have any extra enrollment fees.
The cost of the CFA exam registration fee is expected to increase in 2023.
In 2023, the registration fee for each Level exam will be USD900 per registration in advance while standard registration will cost you USD1200.
Enrollment fee for Level I is expected to reduce to USD350 on the brighter side.
Total Cost: USD1150 – USD1450
Job Outlook for Certified Financial Analyst:
Job opportunities for CFA are fairly promising in comparison to other certifications. As per reports of The Bureau of Labor Statistics, demand for financial analysts is expected to increase by 7% by 2033. The main attribute of the increase in demand is the raise in the number of businesses looking for investment advice with the increase in new start-ups and old business expansion.
CFA gets higher salaries when compared to CMA's and CPAs. The gross annual salary for most Certified Financial Analysts is around USD92000. With the increasing experience and skills, the pay will also be directly proportionate.
CFA's can easily get great returns on their investments when compared to other certifications.
Chartered Alternative Investment Analyst:
Chartered Alternative Investment Analyst (CAIA) is a role mainly centered on investment management and is offered by CAIA Association.
The demand for CAIA certification is ever growing and as per studies, the CAIA member count has increased by 9% since 2010.
The job role of a CAIA is similar to that of a Certified Financial Analyst (CFA), the role is heavily centered on private equity and hedge funds. CAIA has more niche specialties when compared to CFA, because of its specialization in alternative investments.
Cost of CAIA Certification course:
If we compare CAIA certification to other courses, it can surely be considered one of the most expensive financial certifications out there. CAIA certification has two parts in total, both parts have to be taken separately and payment will be extra in case of an exam retake
Register for each part, it costs around USD1250 for each part. This cost can be reduced by USD100 if you enroll before the early registration dates.
Along with the exam registration fee, candidates have to pay USD400 for the program enrollment during their first registration.
In order to retake the exam, the registration fee will be USD 450 for each part or paper.
TIP: Candidates can receive a discount of USD300 if they take the membership of AIMA company.
Total Cost: USD2900
Jobs Outlook for Chartered Alternative Investment Analyst:
If we compare the job available for CAIA out there, most job roles will be similar to the Certified Financial Analyst (CFA). With the increasing number of CAIAs, the opportunities are also increasing proportionately.
Career opportunities are expected to grow by 6% by 2030 with the increased growth of alternative investments.
But there is a huge difference in salary drawn by CAIA when compared to CFA. The average gross salary of CAIA ranges between USD 55,000 to USD 62,000 annually. It is rare for a CAIA to draw pay more than USD70,000. The return of investment candidates can get from this course is good but smaller when compared to other certifications available.